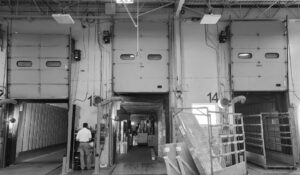 ST. LOUIS, September 7, 2022 – RF Controls ("RFC"), the leader in wide-area passive RFID RTLS systems and dock doors, now offers overhead encoding to commission and update Electronic Product Code memory stored on RAIN RFID labels, tags and cards. This first-to-market software-driven product enhancement leverages over a decade of RFC's unique, steerable phased array expertise, design innovation and software development. It is now possible to Identify, Locate, Track and Encode with all CS Smart Antenna models. Patent applications are filed and pending.
By offering the industry's most dynamic, field-proven beam-steering algorithms, RFC can deliver the highest scan speeds, the longest read distances and most accurate pinpoint location data of any competitive overhead system. This unmatched performance works in sync to underpin and launch the industry's first commercially scalable, overhead encoding processes. Redefining RTLS operational efficiency and affordability also means enabling faster, more flexible and more accurate tagging processes on the factory floor, inside warehouses or distribution centers. It also means allowing end-customers to connect it all, and create a seamless ecosystem that elevates every vendor, device, tag and employee.
"The functionality of this patent is not possible without the one-of-a-kind performance characteristics of RF Controls products where speed, distance and accuracy drive outcomes and capabilities never thought possible," says Graham Bloy, CTO of RF Controls. "The foundational science used to develop these products is what drives continued advances in scalability and functionality," Bloy continued.
Previously deployed CS Smart Antennas, both CS445B and CS490, are backward-compatible and can be upgraded to encode an EPC quickly, accurately, and intelligently from up to 40 feet away. RFC will work through its network of channel partners to deliver a seamless API. This breakthrough solution provides more control of RAIN RFID-tagged items throughout the supply chain.
This technology marks another first for RF Controls and opens the door to advanced deployments of RFID-enabled products without adding layers of costly personnel and complexities from multi-vendor pain points," said Tom Ellinwood, CEO of RF Controls. "This clears a major hurdle by removing bottlenecks and automating a critical step in the process of associating tags to an item, an item to a process and a process to a building as parts, materials and products move through the various stages of production and transportation. The potential applications are broad across the many sectors of the global economy."
The collaborative efforts by the RF Controls team are to deliver innovation at scale, increase labor-efficiency, reduce operational costs, improve the customer experience, and help re-imagine the possibilities for a connected supply chain.
Contact: info@rf-controls.com